Happy One Year Anniversary Blog!
Well folks, today is the official blogiversary of my one year
post
. Last year I was sitting in a hospital bed, staring at my scar and wondering why this grape popsicle tasted so good!
Now... one year later, I am staring at my baby boy "playing" on the floor! So much has changed and so much has been said. However, I have never loved a subject mor than... well... talking about me ;-)
Blogging has been the outlet I never knew I needed. The outlet to free my mind and express my opinions, while "meeting" the most awesome people I have ever met!
So thanks freaders, for an amazing one year!
----------------------------------------
A First Father's Day
Hubs on his 1st Dad's day!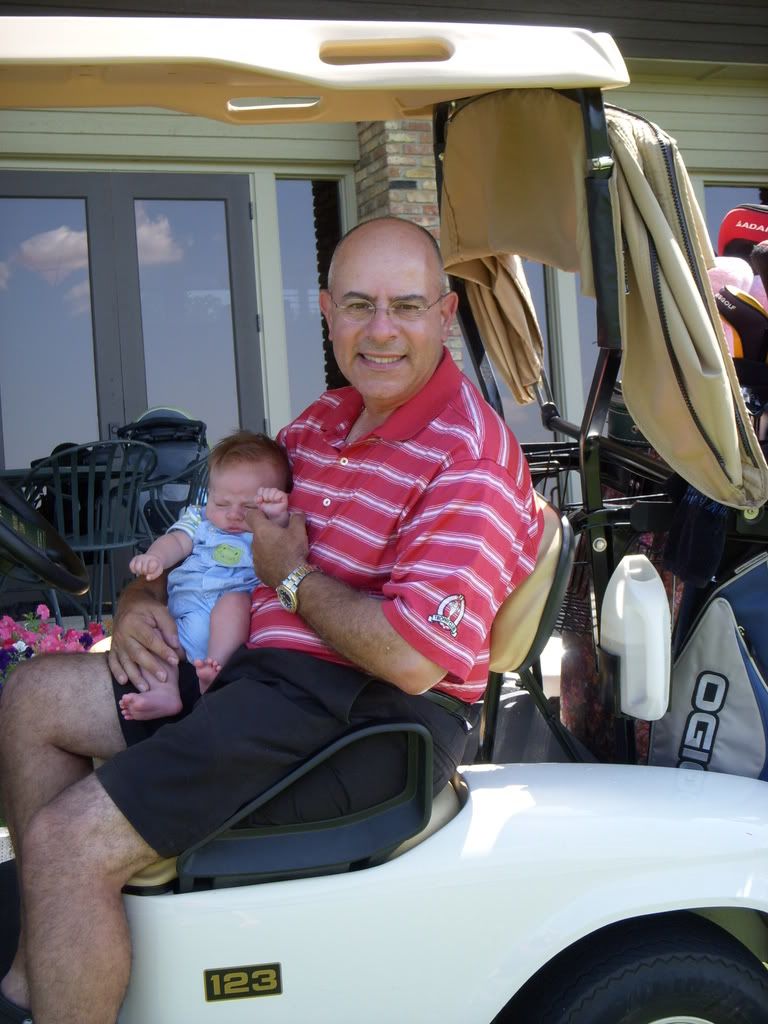 This is my dad, at his favorite place (the golfcourse), with Mr Man!
Yesterday, was truly a wonderful day! First we had lunch with the in-laws and caught up on some news. Then we headed to the country club for some driving range practice and 9 holes of golf. Well, B and I didn't do that, but hubs got to play with my baby bro and my dad.
Then we came home for some US Open (go Rocco!!) and some delish filet mignon's. My mom and I bought a cake and dad cooked the steak. It was truly a wonderful end, to a brilliant day!
And I leave you all with a brilliant poem!
DADS are special people
No home should be without,
For every family will agree
They're 'SO NICE TO HAVE ABOUT'
They are a happy mixture...Of a 'SMALL BOY' and a 'MAN'
And they're very necessary in every 'FAMILY PLAN'
Sometimes they're most demanding, and stern, and firm, and tough
But underneath they're 'soft as silk'
For this is just a 'BLUFF'
But in any kind of trouble Dad reaches out his hand
And you can always count on him to help and understand
And while we do not praise Dad, as often as we should,
We love him and admire him
And while that's understood
It's only fair to emphasize ....His importance and his worth
For if there were no loving Dads
This would be a 'LOVELESS EARTH'.
By Helen Steiner Rice
Hope you all had a fab Father's day!