I looked at the clock next to the bed, 4:45 AM, damn - I would have thought I could have slept a little longer! Oh well, I'm up, so lets get this party started! I tiptoe downstairs, with Mochachino clicking his nails behind me.



I enter in the kitchen, only to realize my father is already up and coffee is already brewing. Mmm! What a way to start the best day of my life!



Dad turns to me and says "Hey you! Want some breakfast?"

"Sure, whatcha cookin?'"

"Whatever you want - its your day."

"Right" I say, "How bout some eggs and bacon, and an Italian Mimosa (prosseco and juice)"

"You got it!" Dad said with a smile.



Just then I turn around to see my mom blinking tears from her eyes.



"Good morning my love." She says with the biggest of smiles, "Are you ready?"

"Yep! Never been more ready!" I said with an equally big smile.



Just as my first cup of coffee is being poured, the doorbell rings. It's him! I think.



Then, the door opens and it is the man of the hour, the florist! A HUGE box of BEAUTIFUL bouquets enter through the door. Mochachino is so excited he tries to eat them! A beautiful array of orange, red and yellow flowers. The PERFECT colors, like Autumn in NY!









This day - September 4, 2004 - is going to be the best day of my entire life!



Soon, the doorbell rings again, I have an Italian Mimosa in hand, and the hairstylist and the makeup artist have arrived. Soon, my bridesmaids have gotten up, my Mother in Law has arrived to get her hair done and everyone is abuzz with excitement!



After primping and getting beautiful it is time for the dress!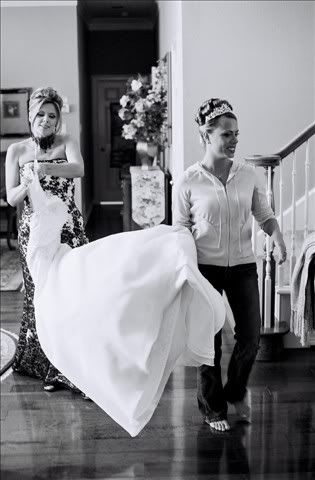 I bring it downstairs and my bridesmaids help me slide it on. Perfect!! Fits like a glove! My skin is tan, my lips are red, and I am ready to go! Soon to be a Mrs!!



As we pile in the limo I look around. My "baby" cousins who are so big it makes me want to cry, my dad, cigar in hand, and my bridesmaids, all looking at me with smiles on their faces.

--------------------



We arrive at the church and the photographer's flash bulb starts going full speed. My aunts, my uncles, my cousins and my friends all want a picture with the bride. I look around to try and cherish this moment, but it all seems to be moving so fast. Suddenly, I am dizzy, I gulp water and realize I am about to walk down the aisle.



From a distance I hear the music, a booming organ, and the big church doors opening and closing. People are arriving, and are being seated, it is almost time!!



The next thing I know, the wedding coordinator enters the bridal room. My father and I look at each other, link arms and walk to the doors of the church. She adjusts my bouquet, I squeeze my dad, and she says smile!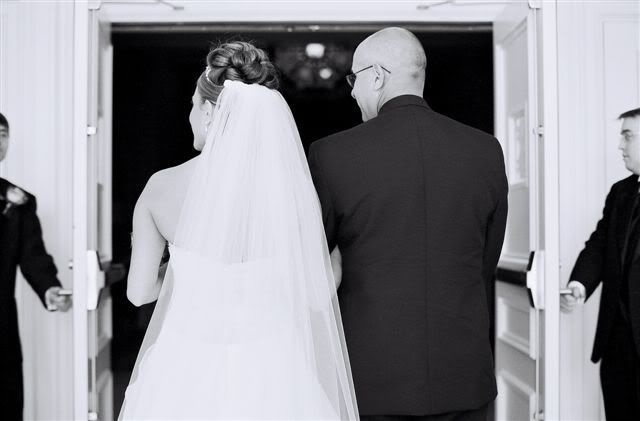 As the grande white doors open, I see him, staring like a kid in a candy store. His grin says it all. This IS the happiest day of our lives.



My father and I walk down the aisle (what seems to be at warp speed) and there I am. Holding my fathers arm and my soon-to-be husband's hand. The minister is peering up at us and hubs and I look at each other and smile.

--------------------

After speaches and candle lighting the words are spoken... "I do!"



As I kiss the man of my dreams, I realize, this is where it all begins. This the true test of God, a marriage.








We walk down the aisle hand in hand, relishing the moment. The rest of the night, we dance and kiss and sing with the band. We exchange hugs with all the family that is in town and all the family that is always here. We drink wine and we laugh.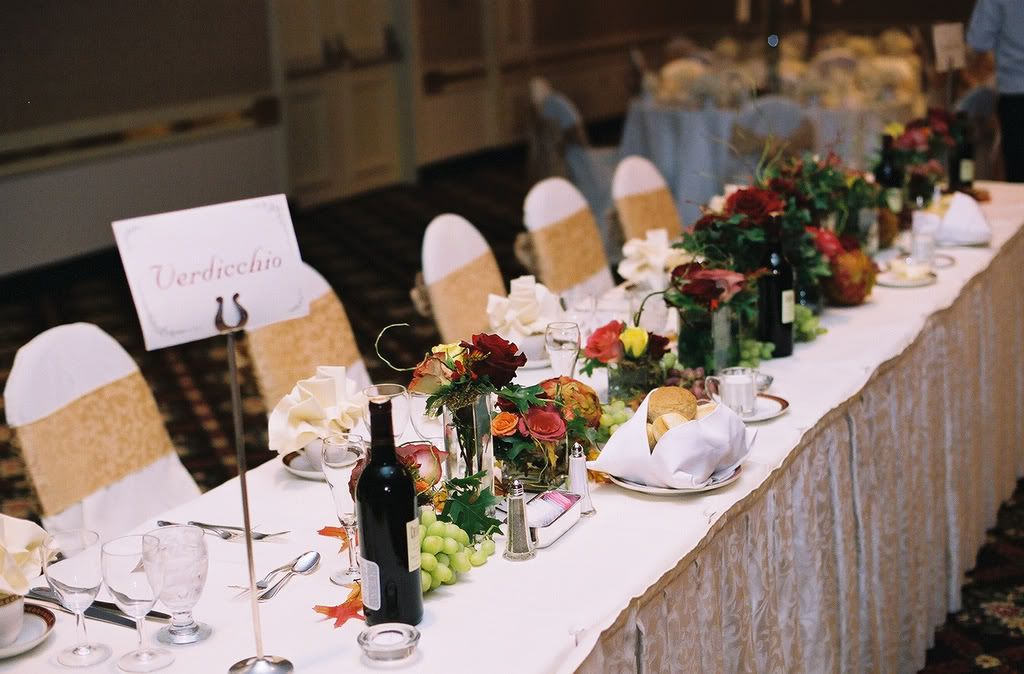 --------------------

As I look back on this 4 year anniversary, I realize we have done so much. We have conqured issues, we have worked as a team, and we have created one of the most special things on earth... a baby boy!



For me, this marriage, is about exploring each new day with the man I love. It is drinking coffe in the morning, telling each other about our day, and kissing each other before we go to bed. It is the small thing we should be thankful for, like the endless love we have for each other.



So today, I am here to say thanks to hubs, for always being there for me, for always loving me, and for the endless support you give. Muahh!