It was a fun journey to the far far away land of 4 hours from here ;-) And Mr Man was awesome the whole way there and back! I am kind of sad we had to return so quickly, but it was a well deserved break in the routine!
Wednesday we took the drive and it went pretty well. Mr Man was fed every 2 hours and it was nice to just head out of town. We stopped for lunch, which was an adventure in itself... it seems B has impeccable timing with food. As soon as the food arrived, he screamed b/c he was hungry. So I trotted off to the car to feed the man, when on our way back in, he decided to have a poop-splosion...all over his clothes. The silly mommy that I am, I didn't have an extra outfit in the diaper bag and so we had to truck to the car again to be changed. Finally, I got to eat some food, and because of the craziness I had to endure, I rewarded myself with a key lime pie (my fav)!
Then, that evening we tried another restaurant near the hotel and again, Mr Man decicded to scream with hunger pains just as the food arrived. We headed to the car again, fed him and returned to enjoy a beer and pasta!
This is Mr Man in his first hotel room!

Thursday, Hubs had to head to his meeting, so B and I were on our own. Luckily, hubs has family in the area, so I met up with his cousin and B and I went shopping. OH Yeeeah! I got some great stuff. JCrew - you rock! Baby Gap - could you carry cuter clothing? and BCBG - Damn you Paris line! I love the way your clothes fit and look!
After a long day of shopping, B and I headed to the hotel for a quick nap and then out the door again for some delish Mexican food! Since we never get to see hubs cousin, we decided another slice of Key Lime Pie was in order, so we headed to the restaurant and ordered some slices. It was really a blast getting to hang wih the cuz!
Finally, yesterday, we met up with Cuz and her boyfriend for some awesome breakfast and hot coffee. We said our goodbyes, B was fed again, and we were on the road. Only this time... we stopped and did some more shopping. (YES - both hubs and I really to shop.) After 3 hours of retail therapy, we were finally on the road to head home. We arrived a little later than planned but overall it was well worth the trip.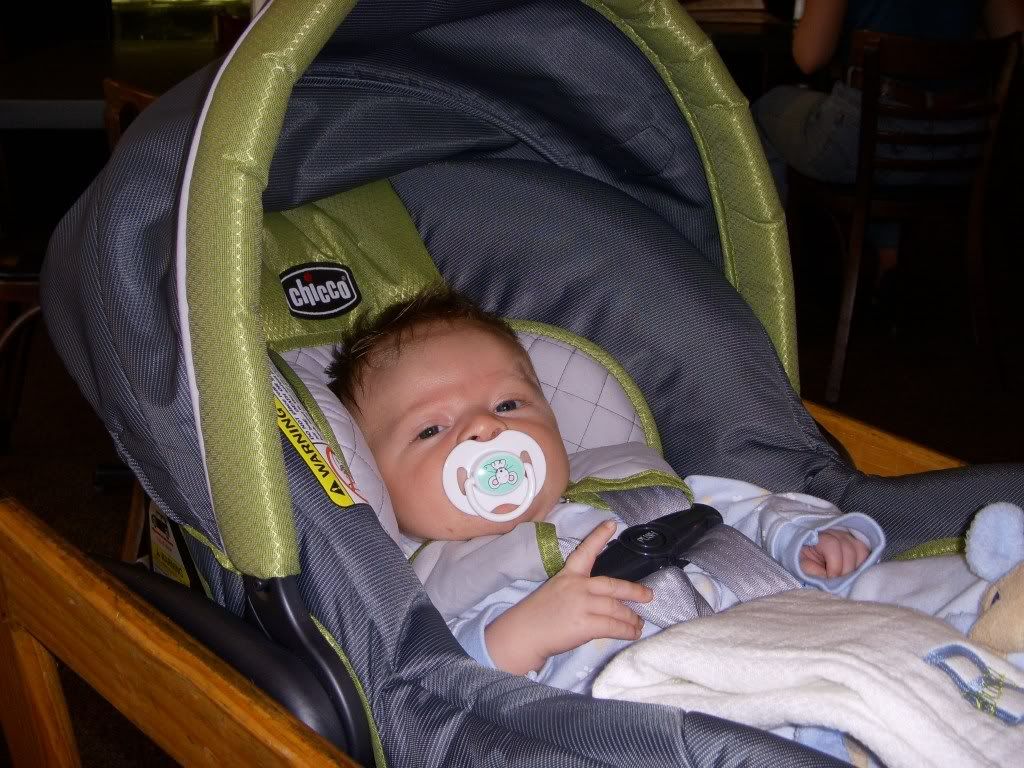 Chillin' at breakfast
Cuz and the BF! So cute!
It was so nice to just get away!
Our cat, Basil, greeted us as soon as we walked in the door, and this morning we picked up our little chihuahua, Mochachino, from his boarding. He was all clean and extatic to see us!
Overall, it was really nice trip and I hope we can do it again soon!